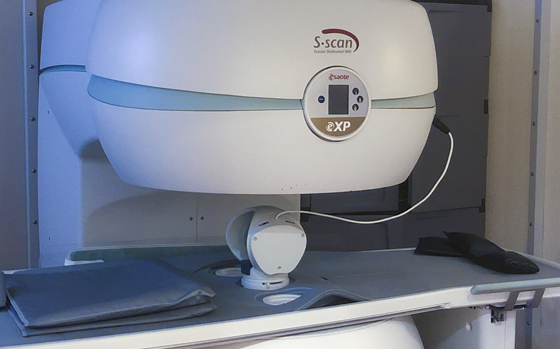 Open MRI
Part of our mission at SBJI is to provide quality orthopedic care to our patients. One of the ways we do this is by investing in state of the art technology. Our open MRI is one of these investments.

Unlike traditional MRI machines where the patient lays on a table and travels through a tunnel surrounded by magnets, the open MRI allows the patient to view their surroundings while the magnet works above them.

The open MRI works very well for patients with claustrophobia, large or heavy patients, or patients who would otherwise be uncomfortable during an MRI exam.

Magnetic Resonance Imaging (MRI) is a safe, painless way for your physician to look into the body. Unlike an X-Ray, a MRI creates a picture of the soft tissue and provides information that can improve the diagnosis. The exam uses radio waves and a magnetic field to create the images, which are transferred onto ray film so the doctor can interpret them.
A complete MRI exam usually takes 40 - 60 minutes.

If you have other questions or concerns, please contact our office.
Digital X-Ray
Our digital X-Ray system is another one of our investments in technology that helps us serve our patients better. Unlike traditional x-rays, the digital x-ray captures the image and sends it directly to the computer, instead of putting it on film.

This technology allows the doctors of SBJI to view images almost immediately, allowing for greater flexibility and increased speed of diagnosis. This also enables the doctors to view the images much more quickly than they would if they had to wait for x-ray film to develop, saving patients valuable time out of their day.

Another benefit of the digital x-ray technology is that when requested, it is easier to SBJI to copy the image for another healthcare provider or patient, saving the patient time and money.

A typical x-ray takes about 5-10 minutes, depending on the number of views the technician needs to take of the appendage. As with an MRI, the patient should be prepared to remove any metal objects from their body. In addition, patients must notify the technician if they are pregnant or think they may be pregnant.